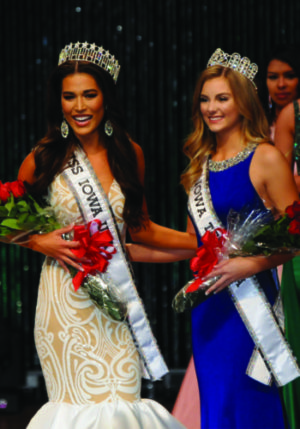 AMES, Iowa – February 7, 2018 – 2018 Miss Iowa USA, Jenny Valliere of Cedar Rapids, and 2018 Miss Iowa Teen USA, Isabella Russell of Marshalltown, will be present at Figure Skating competition of the 2018 Winter Iowa Games presented by Grinnell Mutual. Both titleholders will be at the Cedar Rapids Ice Arena from 9 a.m. to 1 p.m. this Sunday, February 11.
Jenny Valliere
Perseverance is what lead to Valliere's crowning as Miss Iowa USA 2018. Jenny competed for 8 consecutive years before finally capturing the title that would change her life forever.
Jenny is a graduate from Mount Mercy University with a Bachelor of Arts in Communications and Public Relations, and minor in Spanish. She currently works as the Afternoon Drive Personality for a Top 40 FM Radio Station in Cedar Rapids, Iowa, known as Z102.9. She is also a host for the Cedar Rapids RoughRiders, a Tier 1 Junior Ice Hockey Team in the US Hockey League.
Isabella Russell
"If you dream it, you can do it," is one of Isabella Russell's favorite quotes. The Walt Disney quote inspires her to imagine her future and the ability to acquire her dreams. The 2018 Miss Iowa Teen USA Pageant was Bella's first pageant and she relates "dreams really do come true."
The 17-year-old native of Marshalltown enjoys an active lifestyle with a variety of school activities. She has been a varsity cheerleader for four years and captain of the squad for the last two seasons. Bella also is a member of the swim and diving team and a member of the varsity golf team. Bella was a competitive power tumbler and traveled extensively for competitions; currently, she combines her cheerleading and tumbling to the delight of the crowds. Bella also is a classically trained ballet, tap, and jazz dancer, and became fluent in Spanish while attending a bilingual school.
For more information on Miss Iowa USA & Teen USA pageants, visit www.missiowausa.com.
Both women will be available for autographs and photos during their appearance. They will also be speaking to the athletes, coaches and spectators, as well as handing out medals during the awards ceremonies.
Over 60 skaters will be competing at this year's event in Cedar Rapids. Athletes will not only be competing for Iowa Games medals, but for a chance to qualify for the 2019 State Games of America in Lynchburg, Virginia.
The 2018 Winter Iowa Games has featured 25 sports throughout January and February, with the majority of sports hosted in Dubuque, January 26-28. Following the main weekend, Cedar Rapids will host Figure Skating February 11, followed by sports in Iowa City, February 17-18.
Over the course of 6 weeks, athletes from across the state will compete in events in 16 Iowa communities.
For more information, visit www.iowagames.org.