Iowa Games CEO/Executive Director, Chuck Long, honored Sara Schwendinger of Des Moines and Jim Schon of Glidden, the Marty McHone Iowa Games Female and Male Athlete of the Year Awards during a reception at Terrace Hill in Des Moines on Monday, September 18.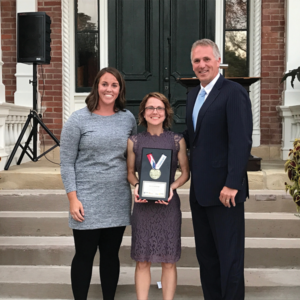 Sara Schwedinger, Track & Field
Schwendinger, a Wisconsin native now living in Des Moines, began running as a freshman in high school. With no running experience, her cousin convinced her to run cross country and so began her lifelong love affair with running. She ran both cross country and track in high school, with track being her favorite. In 1997, she ran her first marathon with her dad and has since competed in 6 marathons, including the Boston Marathon this past April.
Sara ran her first Iowa Games in 2015, competing in the 5K Road Race and the 1500 meter. She had discovered masters track and, in an effort to break up the monotony of road racing and marathon running, she decided to get back on the track. She has continued to run the 1500 meter and this past summer added the 800 meter to her list of events.
Tragically in 2015, her father suffered a massive heart attack and passed away. Sara's father was her number one fan and running partner, competing in several races the past 24 years.
"I attribute my running success to my father, as he continued to push me to compete," commented Schwendinger. "Every race I compete in is an opportunity to honor his memory."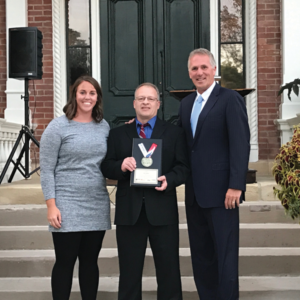 Jim Schon, Weightlifting – Bench Press
Jim Schon, a 20 plus year Iowa Games veteran, began participating in the Games in 1995 and has only missed two years. An annual weightlifting competitor, he not only lifts in the Iowa Games but across the state. During the early stages of his career he was bench pressing 335 pounds, and currently, at the age of 60, he competed in this year's Summer Iowa Games placing second in his division with a lift of 250 pounds.
As a youngster, Schon noted he was a scrawny kid and always picked last for teams. "I've never considered myself a good athlete," said Schon. "Competing keeps me healthy." Schon's wife thinks he is a bit crazy, as he is training in their garage in the heat of the summer and the coldest days of winter.
Last year, Schon had an unexpected turn of events, being diagnosed with prostate cancer. In January he underwent surgery and even throughout his treatment all he could think about was competing. As soon as he woke up in the hospital he set a goal to compete in the 2017 Summer Iowa Games. Although he finished with a silver medal, he considers it one of the biggest victories of his life.
In 2003, the award was named the Marty McHone Athlete of the Year in honor of McHone who died of cancer in 2002. Both the 2017 award recipients are well deserving of this award and will be the official torchbearers at the 2018 Summer Iowa Games Opening Ceremony.