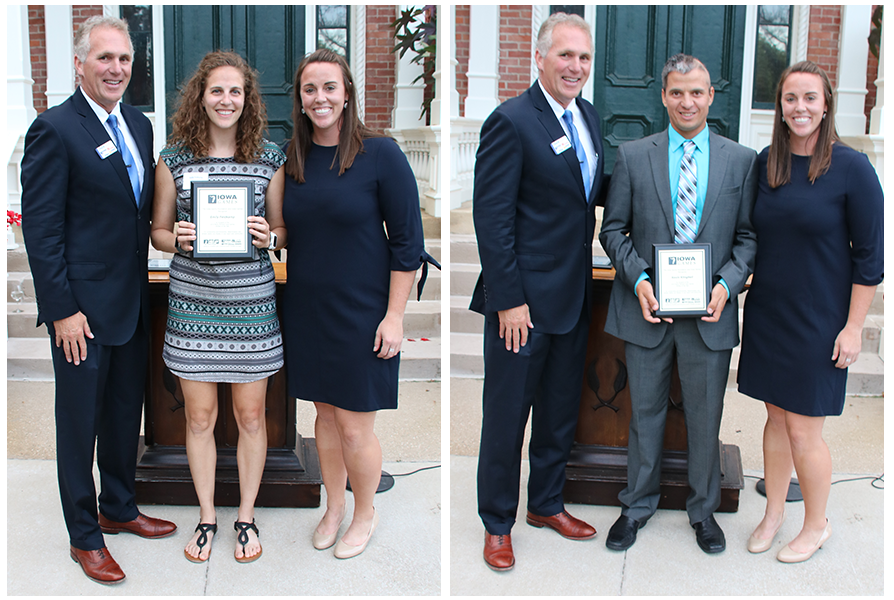 Iowa Games CEO/Executive Director, Chuck Long, honored Emily Feldkamp of Des Moines and Kevin Klingbeil of Estherville, the 2019 Marty McHone Iowa Games Female and Male Athlete of the Year Awards during a reception at Terrace Hill in Des Moines on Tuesday, September 24.
Emily Feldkamp, originally from Robins, Iowa, has a very passionate and dedicated approach to everything she does. Just over five years ago, she didn't know how to swim. She took it upon herself to learn. Earlier this year, she competed in her first Half Ironman.
In June, Emily was training for a number of other events when she found out that she had a stress fracture in her foot. Instead of being lazy, she put focus into what she was weaker at, biking and swimming. Instead of cancelling out of those events she chose to compete. She bought a knee push scooter and completed a half marathon on it. Her determination, passion, and drive is what sets her apart from other athletes.
Because of her training and perseverance through this difficult time, she crushed all her previous times.
Not only did she place 1st in her age group but 9th overall in this year's Iowa Games triathlon.
Kevin Klingbeil, who spends his summers in Dexter, Iowa, began water skiing in 2005 with his first Iowa Games being summer of 2008. He got his start in competitive waterskiing as an energetic leader of the ISU Ski team while attending Iowa State University. Since then he has placed high in both national and Midwest tournaments.
Off the water, Kevin is a senior judge, senior driver, instructor, and knowledgeable tech controller which have required many hours and dedication to obtain. A major responsibility with these roles is to educate up-and-coming officials through clinics and practical training. Beyond being a good skier, he serves as a great ambassador for the sport. He has put in his time off the water to maintain and grow water skiing in Iowa.
In May of this year, Kevin was diagnosed with a brain tumor. At the time of the Iowa Games, he was in the middle of a six week chemo and radiation treatment plan, yet he still competed to the best of his ability. He's currently in a resting period and will begin high dose chemo in the next few weeks that will continue for around six months.
In 2003, the award was named the Marty McHone Athlete of the Year in honor of McHone who died of cancer in 2002. Both the 2019 award recipients are well deserving of this award and will be the official torch bearers at the 2020 Summer Iowa Games Opening Ceremony.
To learn more about the Iowa Games and awards offered, visited www.iowagames.org.