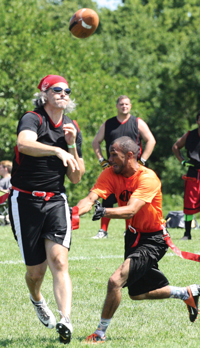 The 2016 Iowa Games Marty McHone Male and Female Athletes of the Year were announced and recognized at Terrace Hill in Des Moines. Phillip Ramsey, Ankeny, and Ann Hegstrom, De Soto, were recipients of the award which was renamed in 2003 after Marty McHone, long-time Iowa Games athlete, passed away from cancer.
Phillip Ramsey, 34, began competing in the Games in 1999 when his father asked him to participate on a flag football team.
"I will never forget the first game I played with my dad. I threw a touchdown pass to him and while we were in the huddle for the extra point his eyes teared up. I could tell they were tears of joy from catching a touchdown pass from his son." He adds, "Little did he know we would have many more in the years to come!"
Ramsey has continued to compete alongside his dad making each experience more memorable. Throughout his Iowa Games career, Phillip has competed in Flag Football, Ultimate and Spikeball earning a total of three medals – gold in 2004 and bronze in 2014 and 2016. The Summer Iowa Games takes place during three consecutive weekends in July, with Ramsey competing on each weekend.
In addition to his involvement with the Iowa Games, Ramsey also devotes his time to other Iowa Sports Foundation initiatives. For the past two years, Phillip has volunteered with distance and accuracy events during the Iowa Senior Games, and assisted in the two-day Snow Skiing event for Adaptive Sports Iowa.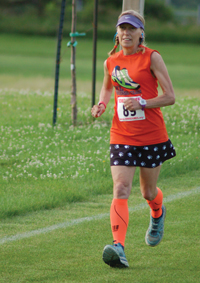 Ann Hegstrom, 60, has been participating in the Games since 2013, earning 17 gold medals, one silver medal and one bronze medal. In 2015, she proudly represented Iowa at the State Games of America in Lincoln, Nebraska.
During her State Games experience, a fellow participant approached her and said, "Remember, you are a national champion." With instant tears, Hegstrom looked back on all of the things she had accomplished and how it all began.
Hegstrom's love for running developed after a challenge to herself, and her students, to take on a new endeavor. Seeking to improve her health, and keep her four dogs happy, she began to run.
"Running is contagious!" says Hegstrom. "I have encouraged a league of friends to start running, served as a mentor in a beginner's running group in Des Moines, and even inspired my quadriplegic husband to "run" half marathons in his power wheelchair with me." Her late husband actually beat her time in his final race just before his passing.
Showing continued dedication to their respective sports, both Ramsey and Hegstrom are model Iowa Games athletes. The Games staff is proud to call them the 2016 Marty McHone Athletes of the Year.