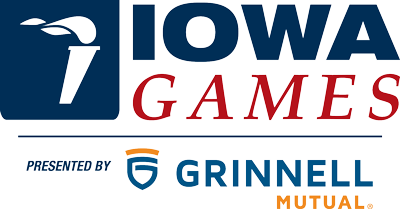 AMES, Iowa – September 7, 2017 – The Iowa Sports Foundation announced today a new, multi-year agreement with Grinnell Mutual as the presenting sponsor of the Iowa Games.
Grinnell Mutual President and Chief Executive Officer Larry Jansen commented, "We are excited to join the Iowa Sports Foundation in bringing sports and recreational activities to thousands of people throughout our state. The Iowa Games is an outstanding group of programs that serves people of every age. Our partnership exemplifies our hope that Iowans stay active and fit throughout their lives. "
"We are excited to extend our relationship with Grinnell Mutual as the Iowa Games presenting sponsor," said Chuck Long, Iowa Sports Foundation CEO/Executive Director. "Their commitment to our state, along with their company values of active lifestyles, makes this a perfect partnership."
The Iowa Games, Iowa's largest amateur sports festival, plays host to the Summer Iowa Games, Winter Iowa Games, Iowa Games Mud Run, Net Fest and the Iowa Games Golf Classic. This past year, athletes from all of Iowa's 99 counties participated in an Iowa Games event.
As part of the Iowa Sports Foundation, the Iowa Games began in 1987 as a weekend event featuring only 16 sports. Today, the Games host over 60 sports and events throughout the year. The Iowa Games allows athletes of all ages and abilities to compete and celebrate sports in the state of Iowa. For more information about the Iowa Games, visit www.iowagames.org.
About Grinnell Mutual
For over 100 years, Grinnell Mutual has been a trusted source of quality insurance. Grinnell Mutual is the 109th-largest property-casualty insurance company in the United States and the largest primary reinsurer of farm mutual companies in North America, working with 250 local mutuals and more than 1,600 local independent agencies in 15 states. To learn more about Grinnell Mutual, visit www.grinnellmutual.com.
About the Iowa Games
The mission of the Iowa Games is to provide sports and recreation opportunities for all Iowans through Olympic-style festivals, events and programs. The Iowa Games is a program of the Iowa Sports Foundation.
About the Iowa Sports Foundation
The Iowa Sports Foundation (ISF) was founded in 1986 as a 501(c)3 non-profit entity with the mission to provide sports, recreation, health and wellness opportunities for Iowans of all abilities. The ISF is comprised of the Iowa Games, Live Healthy Iowa, Adaptive Sports Iowa, Iowa Seniors Games and the Des Moines Corporate Games.