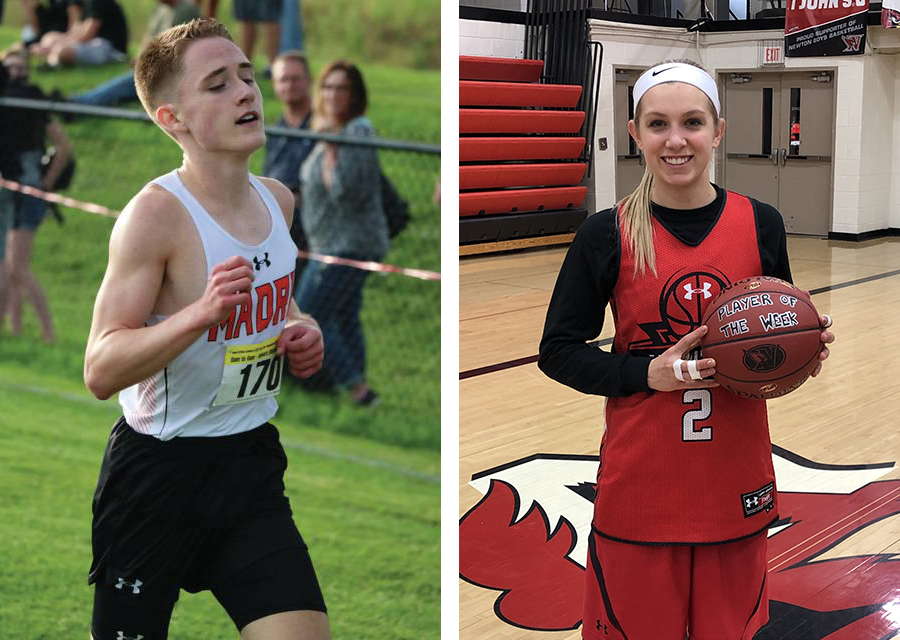 Madrid and Newton Students Making a Difference
Each year the Iowa Sports Foundation chooses two recipients to receive the distinguished Brian Pearson Memorial Scholarship, one male and one female. The scholarship, sponsored by the Orr, Kenyon and Skinner families, is to honor former Iowa State University Basketball Player, Brian Pearson, who died of brain cancer in 1997. This year's recipients are Sean McDermott of Madrid High School and Rachel Rhoads of Newton Senior High School.
McDermott and Rhoads were chosen for their character and ability to demonstrate citizenship, trustworthiness, respect, responsibility, fairness, caring, perseverance, and sportsmanship. Scholarship winners are also students who are accomplished in school, activities and make a positive impact in the community.
"Each year I am impressed with the quality of applicants for the Brian Pearson Memorial Scholarship," commented Chuck Long, CEO and Executive Director of the Iowa Sports Foundation. "It is very refreshing to learn about Iowa youth who are making a positive impact on their school and community by volunteering their time to help others while keeping up with their studies and extracurricular activities."
McDermott is always involved within the community and enjoys spending time helping others through various volunteering opportunities.  He is a 4.0 student in the classroom, achieving a perfect score of 36 on the ACT and has been accepted to a plethora of schools such as Notre Dame and Duke.  Aside from his hard work in the classroom, Sean frequently spends his time volunteering with the St. Paul's UCC Youth Committee, Madrid Summer Lunch Program, Habitat for Humanity, Red Ribbon Week and Catch Des Moines.  He also served as a YSS Youth Mentor which consisted of a weekly meeting for lunch with a second grade student, where he would get to know them and act as a role model they could look up to.
McDermott has also been an avid participant of the Summer Iowa Games and quite the high school athlete.  As a kid he enjoyed many different sports in the Iowa Games such as basketball shooting and the free throw competitions.  He is the recipient of multiple medals within these events including a gold medal from the free throw competition.  In high school, he earned a varsity letter in cross country, track and basketball.  He holds the school record for the 5000m, 3200m, 1600m and has appeared as an all-state selection on multiple occasions.  Sean plans on continuing his cross country and track career at Wartburg College.
Rhoads has developed leadership skills through her many experiences within the community and school. At Newton High School, Rachel was involved in many different clubs and activities such as Student Council, Empower Tanzania, Fellowship of Christian Athletes, Environmental Club, Band, National Honor Society and more.  She served as the president of the Prom Committee, special needs physical education helper, and even founded her own club known as the Yoga and Ice Cream Club to free other students from the stress that school may bring.  Rachel's dedication to helping others is something that really stands out through her involvement with countless volunteer events, mission trips and service days.
Rhoads doesn't just stay busy in the community, but on the fields as well.  During her time at Newton High School she earned a varsity letter for cross country, cheerleading, basketball, soccer, and track and field. She served as the captain of her team in basketball, cheerleading, cross country and is the recipient of countless other awards within those sports as well.  Rachel currently holds the school record for the 5k in cross country and is a state qualifier in multiple events. Ever since she was a kid, Rhoads has been playing sports and has been an Iowa Games athlete for years.  In the Iowa Games she enjoys playing soccer and running in the Midnight Madness Road Race.  She has earned multiple gold medals, including a first place finish in 2018's 10k.
Eligible applicants for the scholarship were students finishing their junior or senior year in 2018-2019 and have participated or volunteered in an Iowa Sports Foundation event. The $1,000 scholarship is to be used to pursue post high school education. The winners are also invited to participate in the Summer Iowa Games Opening Ceremony in Ames on Friday, July 19.