The Iowa Games recently announced the 2015 Iowa Games Marty McHone male and female athletes of the year. Norman Bower, Davenport, and Piper Wall, Ames, were selected as the 2015 recipients of the award which was renamed in 2003 after Marty McHone, long-time Iowa Games athlete, passed away from cancer.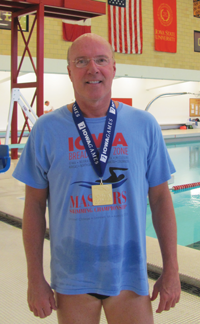 Norman Bower, 62, started swimming at the age of 10. He said swimming brought confidence and joy into his life. Bower and his wife, Linda, have lived in Davenport since 1988 which has allowed him to compete in 22 Summer Iowa Games swimming competitions.
In 2015, Bower participated in the 50 freestyle, 200 backstroke, 50 butterfly, 50 backstroke, 100 backstroke, 100 freestyle and 100 IM adding 7 gold medals to his collection of 180 Iowa Games medals.  Bower also made the trip to Lincoln, NE for the State Games of America.  At this competition, he brought back four gold, two silver, and two bronze medals.
Bower currently coaches the masters swim team at the Davenport YMCA.  He has coached the team to 5 Iowa Masters Short Course Championships.  For 20 years, Bower has dedicated his time to serve as a chair for Iowa Masters Swimming and has served as meet director for the annual Quad Cities Senior Olympics for the past 12 years.
"My wife says I swim 360 days a year, and she may be close to the right number.  I miss it when I don't get that 'chlorine fix' in the morning", Bower commented about his daily morning workouts at the Davenport YMCA.
It is for Bower's determination to the Iowa Games and the sport of swimming that he is named this year's male athlete of the year.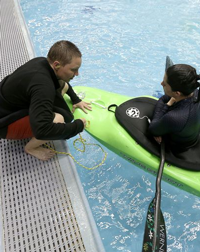 Piper Wall, 50, began competing in the Iowa Games nearly 30 years ago. Wall has competed in women's and coed soccer, canoe kayak flatwater events, handball and whitewater paddling, winning over 100 medals.
Wall's medal count is quite impressive, but what is more inspiring is what she does behind the scenes. She started and continues to serve as the commissioner for the whitewater Summer Iowa Games event and the indoor paddling event at the Winter Iowa Games. For both events she designs and sets the courses, brings and shares kayaks, canoes, stand up paddle boards and helps with results tabulation.
It is to no surprise that Piper has competed in the Iowa Games for decades. To her it is simply just, "Great fun".  Her excitement and excellent attitude is what is so admirable. Wall commented, "I enjoy seeing and helping others enjoy the activities, especially paddling activities, and I want to make sure everyone gets to continue participating in these events." This positive attitude proves her dedication to her fellow athletes.
It is for Wall's dedication, loyalty and success that she is named this year's female athlete of the year.